Hoooooly shit, gang, it's time again for COMPRESSION's famed
BLADDER BUSTERS!
. All the free beer you can drink till somebody pees!!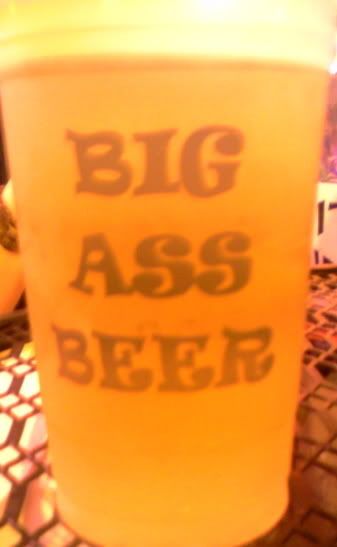 Here's how it works: it's $10 at the door, or $5 if you bring one can of food for our homeless charity drive. Once inside, the drinking begins
promptly at 9PM.
You can drink as much beer as you can stand until somebody tinkles.
Yes, we will have a monitor on the bathroom, and no, you can't leave and come back and keep drinking. But for as long as you're there, and as long as the water in the toliet stays clear, the beers keep flowing. One hour? Two hours? Only time--and the size of our bladders--will tell.
But what if I don't show up until 9:30?
Better drink double fast, then, bro, cause other fools are 30 minutes ahead of you.
What if I can keep drinking, but some jerk is headed towards the pisser?
That, my friend, is why the lord invented peer pressure and/or shame.
What if I wear some fancy penis harness that allows me to pee into a bag in my sock?
Jesus, man, slow it down, it's just free beer.
Remember: there ain't no work Friday and nothing to do except sit around in the sun and get drunk again, so Thursday night it's going to be on. COMPRESSION STYLES, BABY!

And while we get hammered into obivion, enjoy the thumping sounds of COMPRESSION CREW, featuring IVRY, SHARP, MAL, AYE~N, COLONEL and our newest resident, the mighty mighty MC AX!OM


There's hardly a crew in the Bay Area where AX!OM isn't a resident, so it's high time he joined forces with COMPRESSION CREW, too. Known for his insane variety of rhyming styles and his musician's delivery, AX!OM always "keeps it lively" in the dance without ever overpowering the funk. From his energy to his flow, Ax!om rocks shit the fuck out, and is a fantastic new addition to the COMPRESSION family. Big ups, Ben, it's high fucking time!!

REMEMBER: DOORS OPEN A LITTLE BEFORE NINE.
$10, or $5 with a can of food.
DRINKING STARTS AT NINE AND CONTINUES UNTIL SOMEBODY PEE-PEES

GOOD GOD, HONEYBEAR LOVES YOU. LET'S DO THIS!!